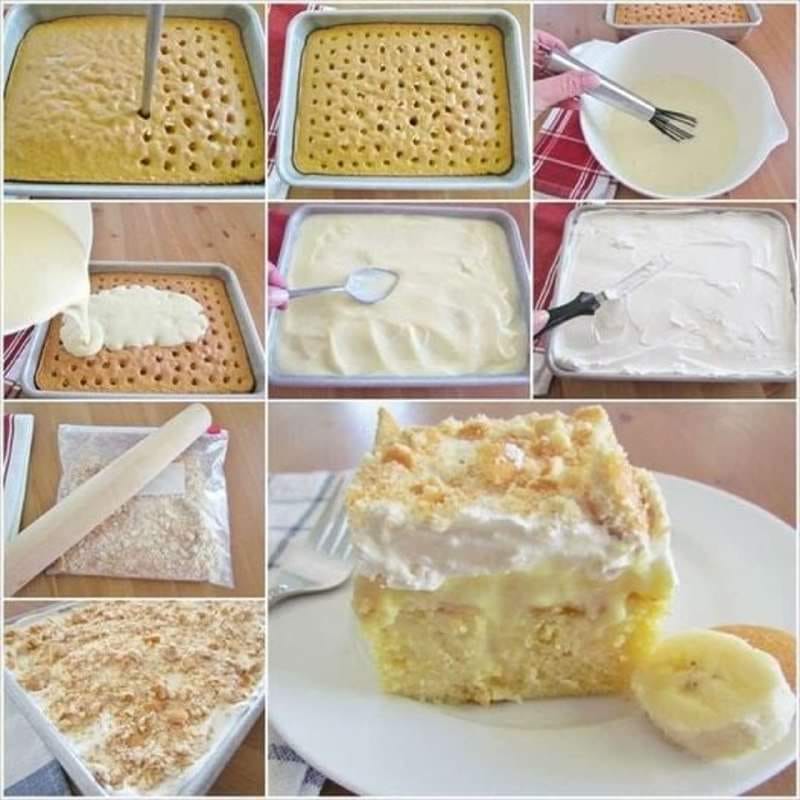 Indulge in a symphony of flavors and textures with our delectable Banana Pudding Poke Cake. This dessert masterpiece is a delightful fusion of classic banana pudding and the beloved poke cake, creating a sensation that's as luscious as it is playful. Imagine layers of moist, tender cake infused with the sweet essence of ripe bananas, delicately nestled between velvety waves of rich vanilla pudding. But there's more – each cake is lovingly "poked," allowing the creamy pudding to seep into every crevice, creating pockets of sheer indulgence in every forkful. Topped with fluffy clouds of whipped cream and garnished with slices of fresh bananas, every bite is a harmonious blend of flavors that dance on your taste buds. Our Banana Pudding Poke Cake is not just a dessert – it's a celebration of tradition, innovation, and the joy of indulging in a treat that's both nostalgic and exciting. Join us in savoring the magic of this dessert that captures the essence of banana bliss with every spoonful.
BANANA PUDDING POKE CAKE
Ingredients
1 box yellow cake mix

ingredients needed to make cake (eggs, oil & water)

2 (3.4 oz.) packages instant banana pudding

4 cups milk

1 (8 oz.) tub frozen whipped topping, thawed

20 vanilla wafers, crushed
Directions
Prepare cake mix according to package directions for a 9×13 cake.
Once cake comes out of the oven, allow it to cool for just a couple of minutes.
Then, with a wooden spoon handle, a spatula handle, or some other similarly-sized object, begin poking holes in the cake.
You want the holes to be BIG so that the pudding has plenty of room to get down in there. Be sure to poke right down to the bottom of the cake.
In a bowl, whisk together instant pudding mix with 4 cups milk.
Stir until all the lumps are gone.
Pour pudding over cake. Taking care to pour it right into the holes as much as possible.
Spread it all out and using the back of the spoon, gently push pudding down into the holes.
Put the cake into the fridge to set and cool (about 2 hours).
Once your cake has completely cooled, spread on whipped topping.
If you haven't done so already, crush your vanilla wafers.
just place mine in a ziploc bag and crush them with a rolling pin.
Leave some of the pieces big. It's nice to have a bit of a crunch when you eat the cake.
Spread crushed wafers onto the top of the cake. You can do this part immediately before serving the cake if you like. This will ensure the wafers are crunchy when you serve it. enjoy !