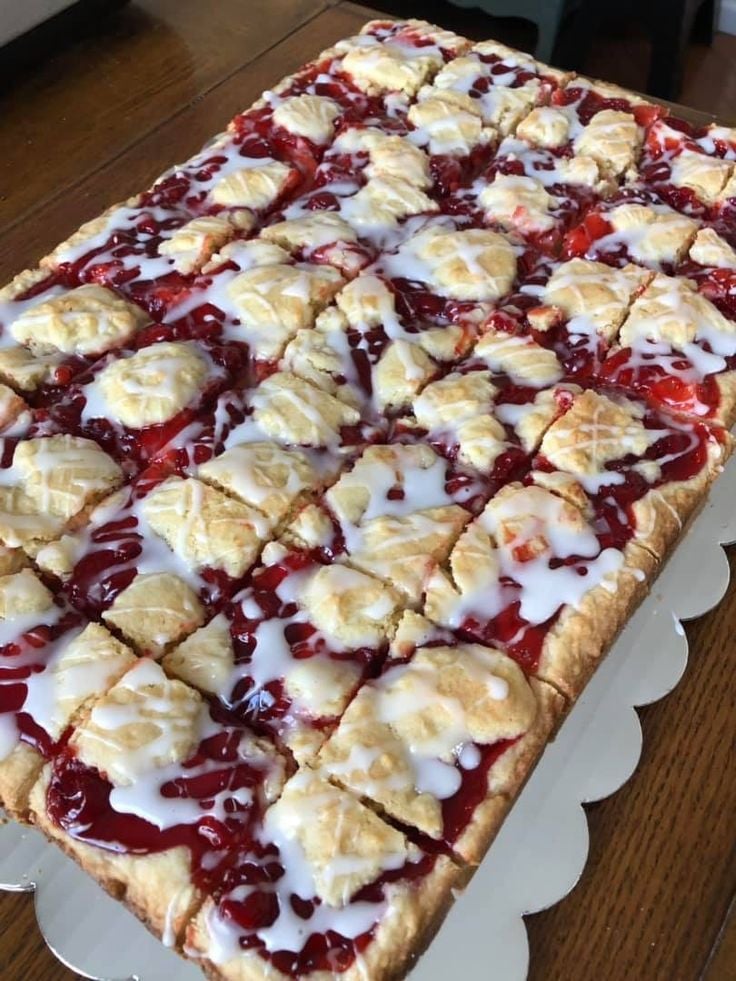 Step into a world where the sweetness of ripe cherries and the buttery allure of baked treats collide in a symphony of flavor and indulgence — introducing Cherry Bars. This confection is a celebration of the beauty of simple ingredients coming together to create a dessert that's both delightful and comforting. With layers of tender cake and a burst of juicy cherries, these bars offer a journey of textures and tastes that evoke the charm of homemade goodness. As we delve into the world of Cherry Bars, we'll uncover the techniques that ensure the perfect balance of sweetness and tartness, the artistry behind crafting a dessert that's both easy and irresistible, and the sheer joy it brings to those who appreciate the timeless allure of a well-baked treat. Join us on a journey through flavor and simplicity, where each bite is a moment of pure, delectable pleasure.
CHERRY BARS
Ingredients
For the Bars:

1 1/2 cups butter, softened

3 cup granulated sugar

1 1/2 teaspoon salt

5 large eggs

1 1/2 teaspoon vanilla extract

1 1/2 teaspoon almond extract

5 1/2 cups all-purpose flour

1 1/2 teaspoon baking powder

2 cans (21 oz.) cherry pie filling

For the Glaze:

1 cup confectioner's sugar

3 tablespoons milk
Directions
Preheat oven to 350 degrees F. Line a jelly roll pan (12×17) with aluminum foil. Spray with nonstick spray. Set aside.In the bowl of your stand mixer, cream together butter and sugar, about 1-2 minutes. Add salt, eggs, and vanilla and almond flavorings and continue stirring until fully incorporated.
Add flour and baking powder and mix until just combined. Reserve 1 3/4 cup of dough. Spread/Press remaining dough into the prepared baking pan. Top with cherry pie filling. Drop remaining batter in small pieces over the cherry filling.Place in the oven and bake for 50-60 minutes or until golden brown.
Remove from the oven and place pan on a wire rack to cool completely. Once cooled prepare the glaze. Whisk together confectioners' sugar and milk until smooth and drizzle over the bars. Cut into 35 squares and serve.