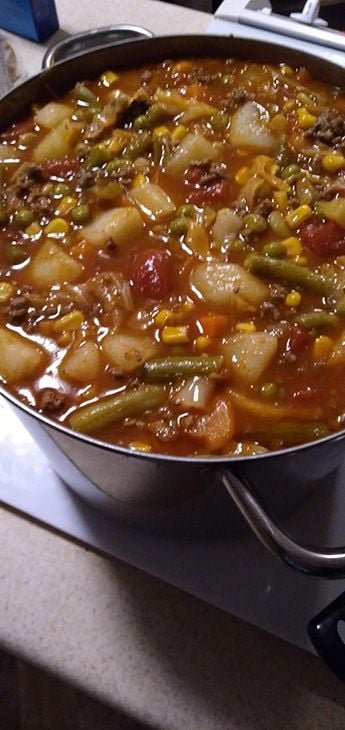 Step into a world where comfort and nutrition come together in a bowl of warmth and flavor — introducing Vegetable Beef Soup. This creation is a celebration of hearty goodness, where a medley of vibrant vegetables and succulent beef unite to create a symphony of textures and tastes that nourish both body and soul. With each spoonful, you'll experience the rich umami of beef, the freshness of vegetables, and the comforting embrace of a well-crafted broth. As we explore the world of Vegetable Beef Soup, we'll uncover the techniques that ensure the perfect balance of flavors, the art of combining ingredients that create a satisfying and wholesome dish, and the sheer joy it brings to those who seek a meal that's both nourishing and heartwarming. Join us on a journey through flavor and comfort, where each bowl is a moment of culinary satisfaction.
Vegetable Beef Soup
Ingredients
1 1/2 lbs beef stew meat

2 1/2 Tbsp olive oil, divided

Salt and freshly ground black pepper

1 3/4 cups chopped yellow onion (1 large)

1 1/4 cups peeled and chopped carrots (3 medium)

1 cup chopped celery (3 medium)

1 1/2 Tbsp minced garlic (4 cloves)

8 cups low-sodium beef broth or chicken broth

2 (14 oz.) cans diced tomatoes

1 1/2 tsp dried basil

1 tsp dried oregano

1/2 tsp dried thyme

1 lb red or yellow potatoes, chopped into 3/4-inch cubes

1 1/2 cups (5 oz.) chopped green beans (trim ends first)

1 1/2 cups frozen corn

1 cup frozen peas

1/3 cup chopped fresh parsley
Directions
Heat 1 Tbsp olive oil in a large pot over medium-high heat.
Dab beef dry with paper towels, season with salt and pepper then add half of the beef to pot and brown about 4 minutes, turning halfway through.
Transfer to a plate add another 1/2 Tbsp oil to pot and repeat process with remaining half of beef.
Add another 1 Tbsp oil to now empty pot then add onions, carrots, and celery then saute 3 minutes, add garlic saute 1 minute longer.
Pour in broth, tomatoes, browned beef, basil, oregano, thyme and season with salt and pepper. Bring to a boil then reduce heat to low, cover and simmer, stirring once or twice throughout, for 30 minutes.
Add potatoes then continue to simmer, covered, 20 minutes (you can also add green beans with potatoes if you like them very soft).
Stir in green beans and simmer 15 minutes longer, or until all of the veggies and beef are tender.
Pour in corn and peas and simmer until heated through, about 5 minutes. Stir in parsley and serve warm.