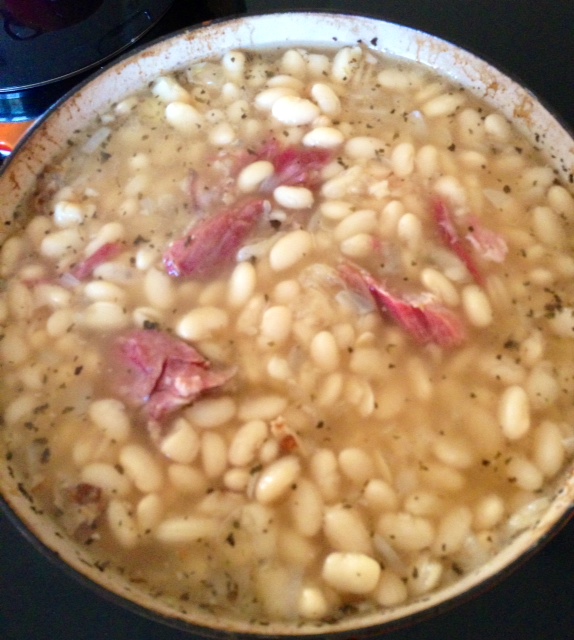 Embark on a journey to comfort and wholesomeness with a dish that celebrates the simplicity and heartiness of beans — introducing Great Northern Beans in the Crockpot. This creation is a testament to the art of slow cooking, where basic ingredients transform into a meal that warms the soul and satisfies the palate. With the tender creaminess of Great Northern beans, the richness of aromatic herbs, and the convenience of the crockpot, this dish offers a symphony of textures and tastes that evoke the charm of home-cooked goodness. As we delve into the world of Great Northern Beans in the Crockpot, we'll uncover the techniques that ensure the perfect melding of flavors, the ease of preparation that lets you set it and forget it, and the sheer joy it brings to those who appreciate the beauty of a comforting meal that's both hearty and convenient. Join us on a journey through flavor and simplicity, where each spoonful is a moment of culinary comfort.
GREAT NORTHERN BEANS IN THE CROCKPOT
Ingredients
⅓ cup Brown Sugar

1 Onion (Chopped)

1 ½ lb. Smoked Ham Hocks

1 lb. Great Northern Beans

Salt and pepper to taste
Directions
Pour the beans into the bottom of the Crockpot.
Add the onion, ham hocks and brown sugar on top.
Cover the beans in about 2 inches of water.
Cook on high for 2 hours.
Reduce the heat to low and cook for an additional 4-5 hours.
Remove the ham hocks from the crockpot. Shred off the meat, and return the ham meat to the crockpot with the beans. Stir and serve with salt and pepper to taste.
Enjoy!