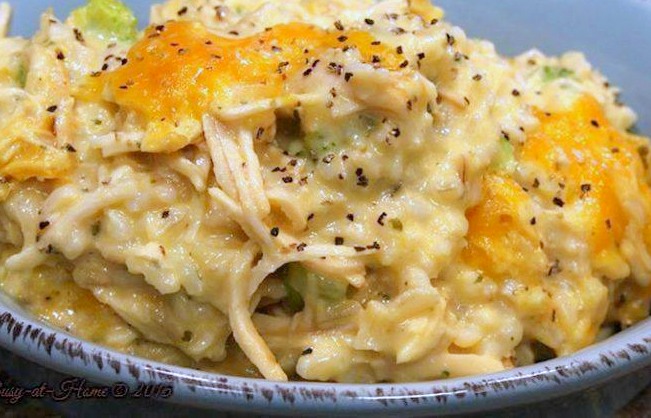 "Experience the ultimate in comfort and nourishment with our Creamy Chicken and Rice Casserole. This heartwarming dish brings together the classic pairing of tender chicken and wholesome rice, enveloped in a velvety cream sauce that's both rich and satisfying. Imagine layers of succulent chicken pieces nestled among fluffy rice grains, all coated in a creamy embrace that harmonizes flavors and textures to perfection. With every spoonful, you'll savor the warmth of a homestyle meal that's been a cherished staple for generations. Whether shared as a cozy family dinner, a comforting gesture for friends in need, or a reminder of the joy that comes from gathering around the table, our Creamy Chicken and Rice Casserole is a celebration of culinary simplicity that nourishes the body and the soul."
CREAMY CHICKEN AND RICE CASSEROLE
Ingredients
1 Box rice a roni chicken flavor

4 C. Shredded chicken

1 Can cream of onion soup

8 oz. Sour cream

2 C. Shredded cheddar cheese

French fried onions for garnish (optional)
Directions
Preheat the oven to 350 degrees.
Cook the Rice a Roni according to the package instructions.
Stir the soup and sour cream into the rice.
Add the chicken to the rice mixture and stir.
Spread the mixture into the bottom of a well greased 9×13 baking dish.
Top with shredded cheese and bake for 40 minutes.
Remove, let cool for 5 minutes, garnish with french fried onions if desired and serve.