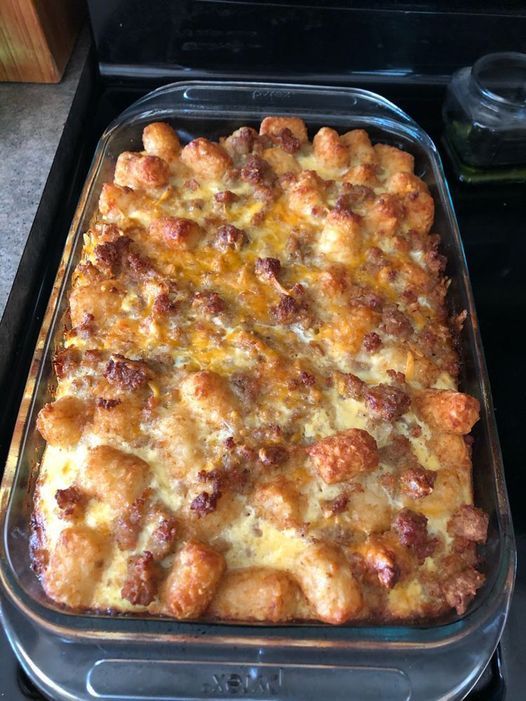 "Embrace the ultimate in hearty, down-home comfort with our Tater Tot Casserole. This beloved dish transforms simple ingredients into a symphony of flavors and textures that evoke feelings of warmth and togetherness. Imagine a bed of crispy tater tots, nestled atop a medley of savory ground meat, vibrant vegetables, and a velvety sauce that binds everything together. With each forkful, you'll experience the irresistible crunch of tots and the satisfying embrace of a filling, flavorful mixture. Whether enjoyed as a soul-soothing dinner after a long day, a family-favorite for gatherings, or a reminder of the joy that comes from savoring familiar flavors, our Tater Tot Casserole is a tribute to comfort food that brings smiles and second helpings to the table."
Tator Tot Casserole
Ingredients
2 lbs. Ground beef

1 Package taco seasoning

1 Can corn drained

1 Can nacho cheese soup

32 oz. Bag frozen tater tots

1 ½ C. Shredded cheddar cheese
Directions
Preheat the oven to 350 degrees.
Add the ground beef to a large skillet over medium high heat on the stove, and saute until the meat is completely browned. Drain any excess fat.
Reduce the heat to low and stir in the taco seasoning. Saute for 2-3 minutes.
Stir in the corn and soup to combine. Continue to cook for a minute or two.
Pour the meat mixture in the bottom of a well greased 9×13 baking dish.
Top the mixture with the tater tots in an even layer.
Bake for 45 minutes.
Remove from the oven, top with the shredded cheese and bake for an additional 5 minutes, or until the cheese has melted.