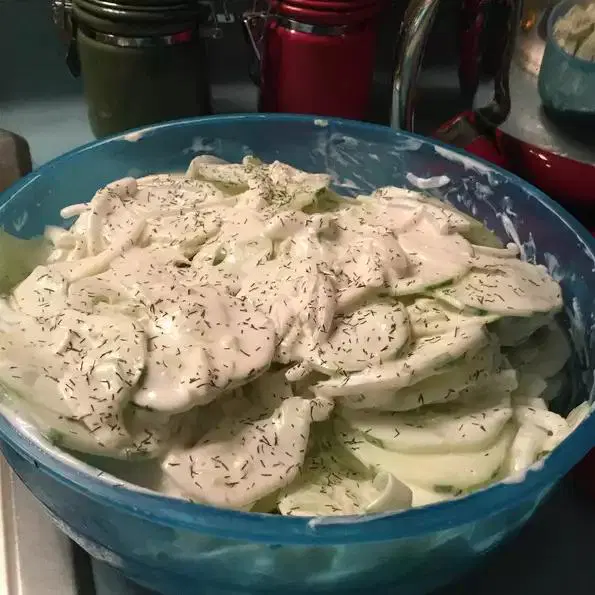 Step into a world of crisp refreshment and delicate flavors with a dish that embodies the epitome of cool comfort — Creamy Cucumber Salad. This creation is a celebration of simplicity and subtlety, where the humble cucumber is transformed into a delightful canvas for creamy indulgence. With every bite, you'll experience the rejuvenating crunch of fresh cucumbers, balanced by the velvety embrace of a delicate dressing. This salad is a testament to the power of a few quality ingredients coming together to create a symphony of taste and texture that rejuvenates the palate and brings a sense of lightness to every meal. As we explore the world of Creamy Cucumber Salad, we'll uncover the crafting techniques, the refreshing essence of its components, and the sheer joy it brings to tables as a refreshing side dish or a standalone delight.
CREAMY CUCUMBER SALAD
Ingredients
1 ½ lbs. cucumbers

½ medium purple or yellow onion, thinly sliced

1 Tbsp. fresh or frozen dill, chopped

¾ cup sour cream

½ Tbsp. fresh lemon juice, from ½ small lemon

2 small garlic cloves, pressed

½ tsp. sea salt and pinch black pepper.
Directions
Step 1:Combine ¾ cup sour cream, ½ Tbsp lemon juice, 2 pressed garlic cloves, 1 Tbsp dill, ½ tsp salt and a pinch of pepper to taste. Mix together and set aside while prepping salad.
Step 2:Slice the cucumbers into thin rounds, and place in a mixing bowl and add the sliced onion. Add the sauce into the salad and mix together to coat cucumbers before serving.
Tips and variations:
•You can refrigerate for 3-4 hours before serving.
•You can add the creamy sour cream dressing to the cucumber salad just before serving for a more crispy taste.
•You can use Greek yogurt instead of lemon if you want.