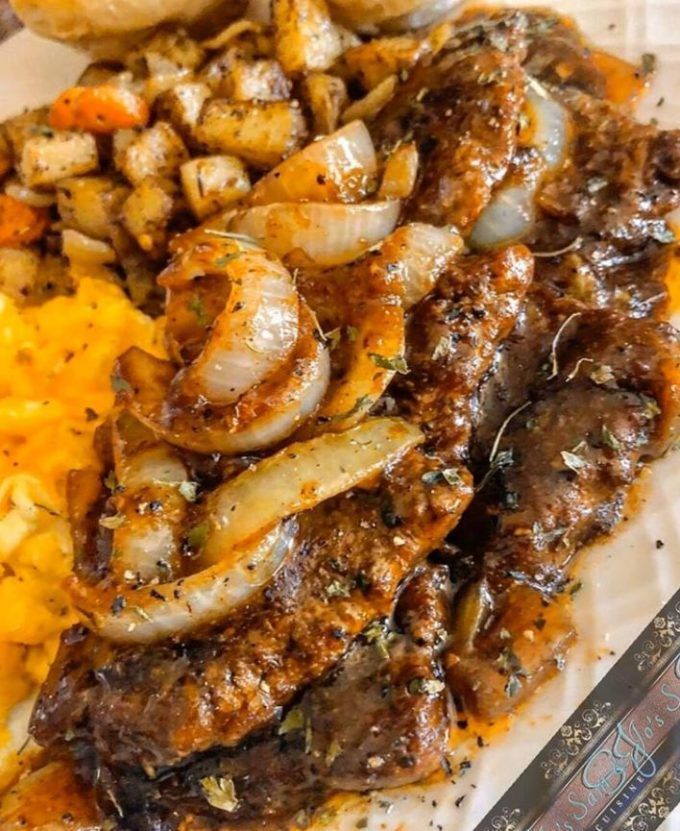 "Delight in a savory symphony of flavors with our Cube Steak Smothered with Onion Gravy. This hearty dish takes tender cube steak and transforms it into a culinary masterpiece that's a testament to comfort food at its finest. Imagine succulent pieces of steak seared to perfection, then nestled in a rich and flavorful onion gravy that's both satisfying and indulgent. Each bite offers a harmonious balance of meaty goodness and the aromatic essence of caramelized onions, creating a sensation that warms the heart and pleases the palate. Whether enjoyed as a soul-soothing dinner on a chilly evening, a homage to Southern-style cooking, or a way to savor the simple pleasures of a well-prepared meal, our Cube Steak Smothered with Onion Gravy is a culinary journey that celebrates the art of comfort and flavor."
Cube Steak Smothered with Onion Gravy
Ingredients
1 ½ pounds cube steak, tenderized before cooking

14 ounces beef broth

⅓ cup flour

½ garlic salt

Salt and pepper to taste

1 large onion diced

½ cup vegetable oil

1 package dry onion soup mix
Directions
FIRST STEP:
In a shallow dish, combine the flour, pepper and garlic salt
Flour both sides of the cube steak
SECOND STEP:
In a large skillet, heat the oil and cook the cube steaks over medium high heat, 5 minutes each side
Remove the meat and set to the side
THIRD STEP:
Add the onion, broth and onion soup mix. Scrape the bottom of the pan to get the browned bits up.
If you want to thicken the gravy more than it is, add some flour left from the dredging process.
FOURTH STEP:
Bring to a simmer, cooking until the onions are soft.
Place the steaks back into the skillet, flipping to coat and warm both sides.