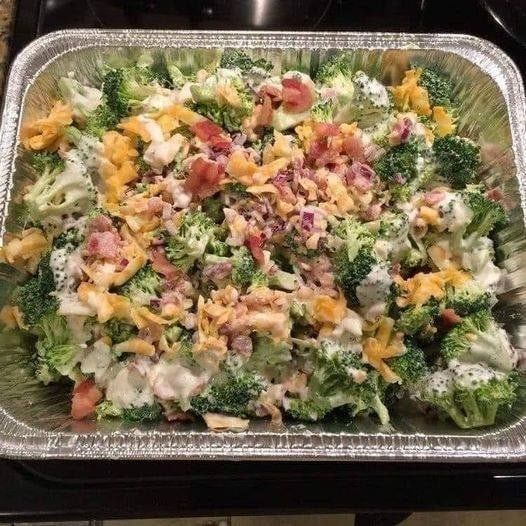 Discover a world of effortless elegance and vibrant flavors with a dish that marries the goodness of crisp vegetables and a creamy dressing — introducing the Easy Broccoli Salad. This creation is a testament to the art of simplicity, transforming humble broccoli into a canvas for a symphony of tastes and textures. With the refreshing crunch of broccoli florets, the sweetness of raisins, the savory allure of bacon, and the creaminess of dressing, this salad is a celebration of balance and indulgence. As we explore the crafting techniques behind the Easy Broccoli Salad, we'll uncover the harmony of flavors, the ease of preparation, and the sheer joy it brings to tables, picnics, and moments when you seek a delightful fusion of health and flavor in every bite.
EASY BROCCOLI SALAD
Ingredients
Ingredients

Salad

5-6 cups broccoli florets

1 cup shredded sharp cheddar cheese – the thicker shred, not finely shredded

⅔ cup dried cranberries

½ cup crumbled crispy bacon

½ cup salted sunflower seeds

⅓ cup red onion diced into small pieces

Dressing

¾ cup mayo – I like to use olive oil mayo.

¼ cup sour cream

1 ½ Tbsp. white wine vinegar

3 Tbsp. sugar

¼ tsp. salt

¼ tsp. pepper
Directions
Combine broccoli florets, cheddar cheese, dried cranberries, bacon, sunflower seeds, and onion in a large bowl.
In a separate, small bowl, whisk together mayo, sour cream, vinegar, sugar, salt, and pepper until smooth and well-combined.
Pour dressing over broccoli combination and toss or stir well. Adjust salt and pepper to taste.
You can serve Broccoli Salad immediately, but for the best flavor refrigerate for at least one hour before serving.
Make sure to toss broccoli salad thoroughly again before serving.
Refrigerate the salad if not serving immediately.
Notes
Notes
• I always use the fresh broccoli and I do not blanch it first. If you prefer it blanched, place broccoli in salted boiling water for 60 seconds. Drain and rinse with cold water until broccoli has cooled, and then dry it well before using.
• I prefer cooking the bacon myself, but you can use pre-cooked or crumbled bacon; make sure you buy the kind made with real bacon – it should say it on the label – and not "bacon flavored bits" with imitation flavor.
• You can substitute plain Greek yogurt for the sour cream.
• The olive oil mayo is nice because it has the creaminess of regular mayo, but it is lighter. However, please use whichever mayo is your favorite!
• If you don't have white wine vinegar, it's okay. Champagne vinegar, red wine vinegar, and apple cider vinegar all work just as well.