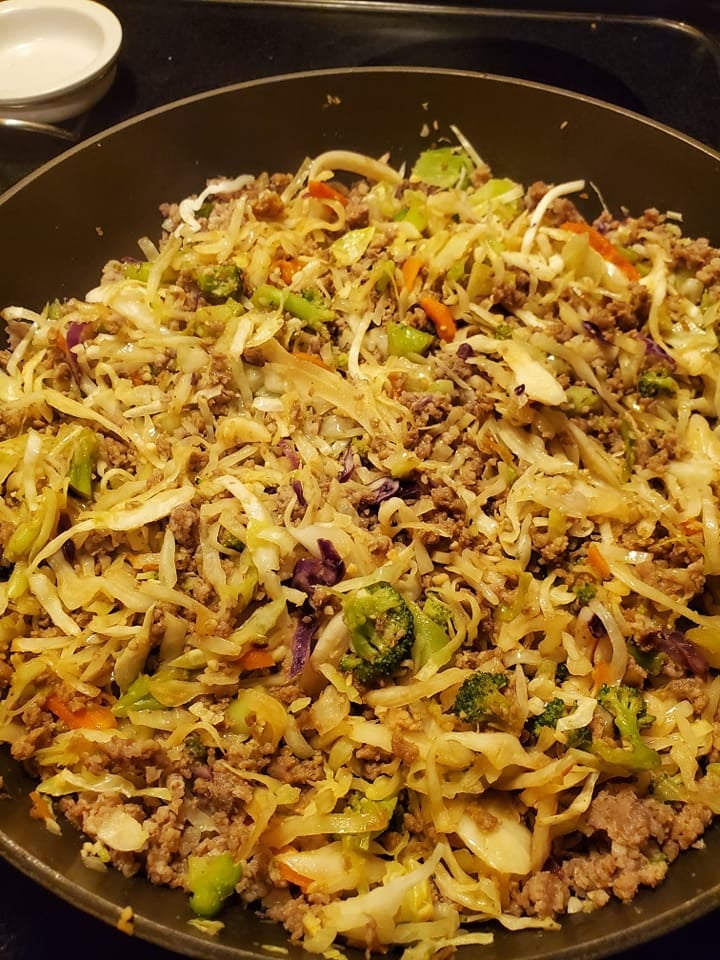 Step into a world where the beloved flavors of a classic egg roll take on a contemporary twist that's as satisfying as it is convenient — welcome to the realm of Egg Roll in a Bowl. This culinary creation captures the essence of the traditional dish with a deconstructed approach, offering all the goodness of an egg roll without the need for wrapping and frying. With its medley of sautéed vegetables, succulent ground meat, and the unmistakable aroma of Asian spices, Egg Roll in a Bowl is a symphony of flavors that transcends the ordinary. As we embark on a journey to explore the crafting techniques behind this inventive dish, we'll uncover the art of achieving that perfect balance of crunch and tenderness, the fusion of textures, and the sheer delight that Egg Roll in a Bowl brings to those seeking a contemporary take on a classic favorite.
Egg Roll in a Bowl
Ingredients
450 grams.Of ground sausage.

Coleslaw mix, I used 6 cups.

4 minced garlic cloves.

1 T spoon.Of minced ginger.

1 T spoon.Of soy sauce.

1/4 Cup.Of chopped green onions.

1 T spoon.Of toasted sesame oil.
Directions
Using a large skillet, cook the ingredients over medium heat. Cook the sausage, turning often to prevent it from crumbling until it is cooked through. Please do not drain.
Combine the coleslaw mix, garlic, ginger, and soy sauce in a pan with the sausage and cook until the coleslaw is hot.
Cook for 3-4 minutes, or until the cabbage has softened a little bit, stirring occasionally.
Finish by garnishing with green onions and drizzling with sesame oil after removing from the fire.
If you like, you may drizzle each dish with sriracha before serving.