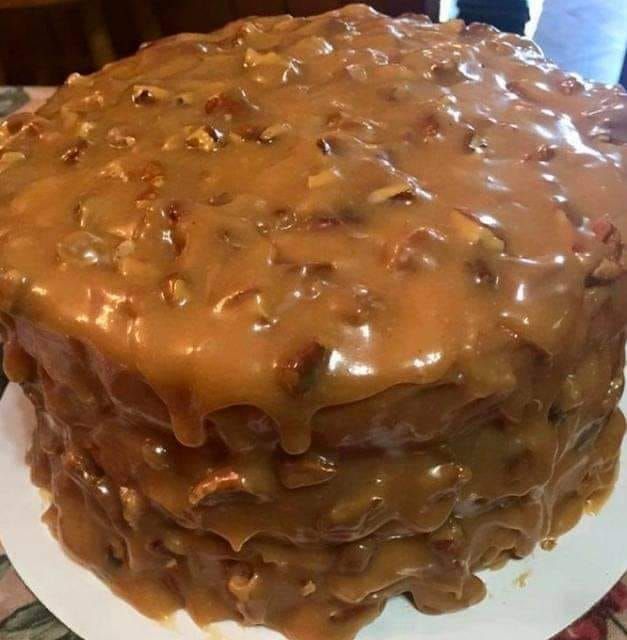 Embark on a culinary journey to the southern heartland of flavor and indulgence with a creation that epitomizes the richness of tradition — the Pecan Praline Cake. This confectionary masterpiece pays homage to the luscious blend of pecans and pralines, crafting a symphony of textures and tastes that dance upon your palate. With layers of moist cake, velvety caramel, and a generous sprinkling of toasted pecans, this dessert is a celebration of indulgence and craftsmanship that evokes the charm of the South in every bite. As we delve into the world of Pecan Praline Cake, we'll explore the techniques that ensure the perfect balance of sweetness and nuttiness, the cultural significance behind its creation, and the sheer delight it brings to celebrations, gatherings, and moments when you crave a slice of pure comfort and delight.
Pecan Praline Cake
Ingredients
FOR THE PRALINE CREAM CHEESE FILLING

1 Philadelphia cream cheese

4 cups powdered sugar

half cup butter

4 tablespoons chopped pecans

1 tablespoon pure vanilla extract

FOR PRALINE TOPPING

1 cup and half evaporated milk

2 cups granulated sugar

1 teaspoon vanilla extract

1/2 cup softened butter

1 cup and half of pecan pieces
Directions
Blend cream cheese and butter milk until smooth using an electric hand-mixer.
Add vanilla extract and powdered sugar , beat for 4 minutes until well blended.
Add pecans , stir and allow to slightly chill before frosting cake.
Melt butter, evaporated milk and sugar in a medium saucepan. Stir to thoroughly combine.
Bring mixture to a slow boil, then reduce heat to medium/low. Let cook for about 15 minutes without stirring.
Add 1 teaspoon of pure vanilla extract and stir until combined .
Remove from heat and pour one and a half cups of pecan pieces into mixture and stir mixing completely.
Use your favorite yellow cake recipe to make three layers , spread your desired amount of praline cream cheese frosting onto first layer, then add second layer and spread second layer of frosting , and now top with third cake layer.
Let the cake chill in the refrigerator for 30 minutes .Then frost sides and the top and retur it to the refrigerator for 2 more hours .
SERVE AND ENJOY !!!