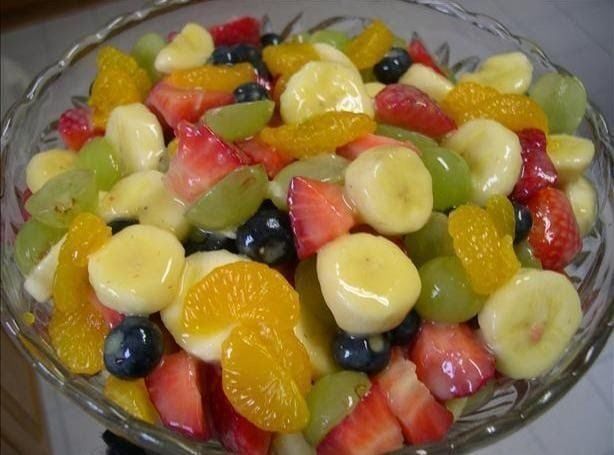 Step into a realm of delectable delight with a dish that lives up to its enticing name — Fruit Salad to Die For. This creation is a symphony of colors, textures, and flavors that awaken the senses and elevate your appreciation for the simplicity of nature's bounty. With an array of juicy fruits, each slice bursting with freshness and sweetness, this fruit salad is more than just a medley of ingredients; it's a celebration of nature's artistry. As we delve into the world of Fruit Salad to Die For, we'll explore the crafting techniques that ensure the perfect balance of flavors, the art of presentation that transforms a simple dish into a visual delight, and the sheer joy it brings to picnics, gatherings, and moments when you crave the irresistible allure of nature's sweetness.
Fruit Salad to Die For
Ingredients
2 cups strawberries sliced

2 cans sliced peaches (15 oz. each) – one can reserve the juices, the other one drained

1 can mandarin orange segments (11 oz.) – drained

1 can pineapple chunks (15 oz.) – drained

2 bananas sliced

1 green or red apple – cored and diced

1 ½ cups blueberries – washed and drained

1 ½ cups purple grapes – washed and cut in half

1 lemon

3 tablespoons instant vanilla pudding mix (regular or sugar free)
Directions
Zest the lemon.
Drain one of the cans of peaches and capture the juices into a large bowl. Place the peaches in a separate bowl.
Stir the 3 Tbsp. vanilla pudding mix into the juice.
Drain remaining can of peaches, mandarin oranges, and pineapple chunks. (The juice is not necessary from these other canned fruits.)
Add all fruit and lime zest to the pudding mixture. Gently stir to combine.
Chill at least 30 minutes before serving.
Notes
• Feel free to substitute fruits: I love adding raspberries and blackberries when they are in season! Also, add a bit of coconut flakes if you like.
• Use fresh fruit over canned if you have it on hand. Just make sure that you reserve the juices from one can of fruit to mix with pudding. It does not have to be peaches if you are using fresh peaches.
• If using fresh peaches, peel them, and toss with a small amount of lemon juice or lime juice to prevent them from turning brown.
• Serving Ideas: Serve in a bowl and top with Cool Whip or whipped cream; spoon over angel food cake, pound cake, or serve over ice cream.
• If you would like extra sauce to drizzle (it soaks into angel food cake beautifully), reserve juice from another can of fruit and mix in 3 Tbsp. vanilla pudding mix and stir well.
• Lime zest may be substituted for lemon zest. Mixing the two together adds a lovely citrus flavor.
• If making ahead of time, wait to add the bananas so they do not turn brown or get mushy.
• Vanilla pudding is the standard, but other flavors will work as well. I have used banana pudding and it was wonderful.