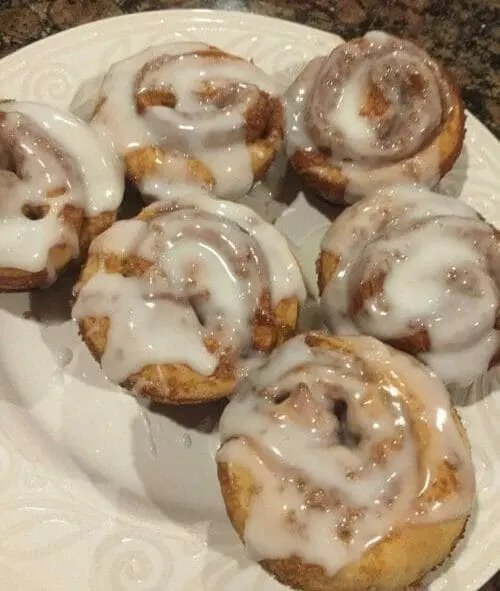 "Embrace the warmth and comfort of a homemade delight with our exquisite Homemade Cinnamon Rolls. Picture waking up to the aroma of freshly baked goodness, as swirls of cinnamon and sugar intertwine within layers of soft, pillowy dough. Each roll is a testament to the artistry of baking, with a drizzle of velvety icing that adds a touch of sweetness to every bite. These cinnamon rolls are more than just a treat; they are a cherished tradition, a labor of love that brings family and friends together around the table. Whether savored as a decadent breakfast, a delightful brunch addition, or a heartfelt gift to brighten someone's day, our Homemade Cinnamon Rolls promise to create moments of pure bliss that linger long after the last crumb is enjoyed."
Homemade Cinnamon Rolls
Ingredients
1/3 cup butter, melted

1 cup warm whole milk (110° to 115°)

2 large eggs, room temperature

1/2 cup sugar

1 package (1/4 ounce) active dry yeast

1 teaspoon salt

4 to 4-1/2 cups of all-purpose flour

Filling:

3/4 cup packed brown sugar

1/4 cup butter, melted, divided

2 tablespoons ground cinnamon

Frosting:

1-1/2 cups confectioners' sugar

1/8 teaspoon salt

1/4 cup cream cheese, softened

1/2 cup butter, softened

1/2 teaspoon vanilla extract
Directions
Warm milk should be used to dissolve the yeast. In a separate bowl, cream the sugar, butter, eggs, salt, yeast mixture, and 2 cups of flour on medium speed until smooth. Stir in enough of the remaining flour to make a soft dough (dough will be sticky).
Turn the dough onto a floured surface and knead for 6-8 minutes, or until smooth and elastic. Place in a greased mixing bowl and turn once to grease the top. Cover and set aside in a warm place to double in size, about 1 hour.
Brown sugar and cinnamon should be combined. Punch down the dough and divide it in half. Roll one portion into an 11×8-inch rectangle on a lightly floured surface. Brush with two tablespoons of melted butter, then sprinkle with half of the brown sugar mixture to within 1/2 inch of the edges. Start with a long side and roll up jelly-roll style; pinch seam to seal. Cut into eight slices and place cut side down in a greased 13×9-inch baking dish. Wrap in a kitchen towel. Repeat same with the rest of the dough and filling. Allow rising in a warm place for about 1 hour, or until doubled—preheat the oven to 350oF.
Bake for 20-25 minutes, or until golden brown. Cool down on wire racks.
To make the frosting, cream the butter, cream cheese, vanilla, and salt until smooth; gradually add the confectioners' sugar. Distribute over the tops. Refrigerate any leftovers.
Best Cinnamon Roll Tips
Check to see if your almond milk is at room temperature.
Allow the dough to rise in a warm place.
Drizzle with the glaze when the rolls are still warm but not hot.
Make them ahead of time!