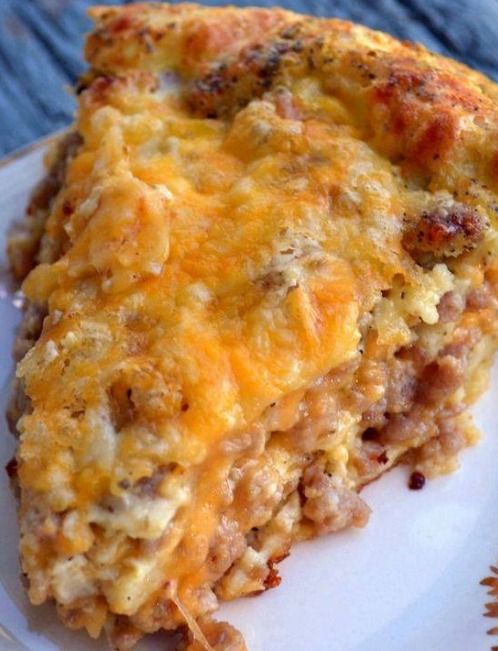 Delight in a savory creation that's as rich in flavor as it is in heritage – our Monterey Sausage Pie. This dish is a tribute to the culinary traditions of the Monterey region, where bold ingredients come together to create a symphony of taste that's nothing short of extraordinary. Imagine a golden crust enfolding a medley of savory sausages, vibrant vegetables, and a decadent blend of cheeses that melt together to form a harmonious union of textures and flavors. With each indulgent bite, you'll experience the warmth of hearty ingredients complemented by the irresistible allure of melted cheese. The Monterey Sausage Pie isn't just a pie; it's a journey through the diverse flavors of California's central coast and a celebration of the art of comfort cooking. Whether served as a centerpiece at gatherings or enjoyed as a weeknight treat, this pie invites you to savor the essence of Monterey's culinary identity. Join us in embracing the magic of regional flavors and savoring a slice that encapsulates the heart and soul of California's gastronomic heritage.
Monterey Sausage Pie
Ingredients
1 pound Bulk Pork Sausage

3 teaspoons Minced Garlic

2-½ cups Shredded Monterey Jack Cheese, Divided

1-⅓ cup Milk

3 whole Eggs

¾ cups Biscuit/baking Mix

¾ teaspoons Rubbed Sage

¼ teaspoons Pepper
Directions
In a large skillet, cook the sausage over medium heat until meat is no longer pink. Add garlic; cook 1 minute longer. Drain. Stir in 2 cups cheese. Transfer to a greased 9-inch deep-dish pie plate.
In a small bowl, combine the milk, eggs, biscuit mix, sage and pepper. Pour over sausage mixture.
Bake at 400°F for 20-25 minutes or until a knife inserted near the center comes out clean. Sprinkle with remaining cheese; bake 1-2 minutes longer or until cheese is melted. Let stand for 10 minutes before cutting.