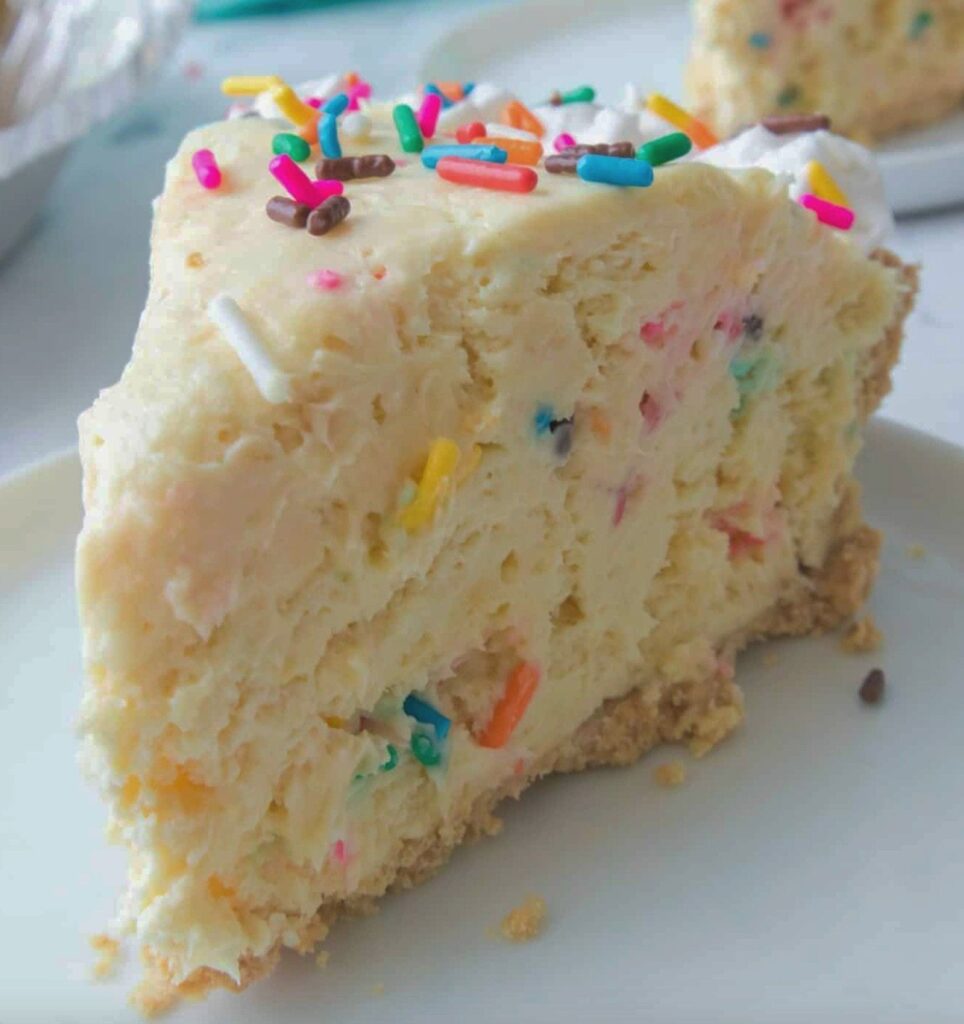 "Experience a burst of vibrant colors and creamy indulgence with our No-Bake Funfetti Cheesecake. This delightful creation brings together the whimsy of funfetti with the luxuriousness of cheesecake, resulting in a dessert that's as visually appealing as it is delicious. Imagine a velvety cheesecake filling speckled with colorful sprinkles, nestled within a buttery graham cracker crust. Each bite offers a symphony of textures and tastes that dance on your palate, capturing the essence of celebratory occasions and the joy of savoring a dessert that's both playful and elegant. With every forkful, you'll experience the delightful contrast of smooth cheesecake and the satisfying crunch of the crust, evoking memories of festive gatherings and shared moments over delectable treats. Whether enjoyed as a centerpiece dessert, a way to infuse your dessert table with a touch of festivity, or a celebration of the art of creating show-stopping no-bake delights, our No-Bake Funfetti Cheesecake promises a culinary journey that captures the heart of indulgence and the pleasures of savoring layers of sweetness in every heavenly bite."
No Bake Funfetti Cheesecake
Ingredients
12 ounces cream cheese, softened at room temperature

1 cup yellow cake mix, powder form

½ cup granulated sugar

8 ounces Cool Whip, thawed

¼ cup rainbow colored sprinkles

1 pre-made graham cracker crust, 9 inch

Extra whipped topping for garnish

Extra sprinkles for garnish
Directions
In a large bowl beat the cream cheese with the hand mixer until it is light and fluffy
Add the dry cake mix and the granulated sugar and mix on medium speed until these are well combined
SECOND STEP:
Using a spatula, fold in the 8 ounces of thawed Cool Whip whipped topping
Add in the ¼ cup of sprinkles and combine so they are spread out
THIRD STEP:
Pour the mixture into a premade graham cracker pie crust and smooth out the top
FOURTH STEP:
Refrigerate for at least 3 to 4 hours before serving.
Before serving, garnish with dollops of whipped topping and sprinkle a few sprinkles on each dollop of whipped topping.
Enjoy!