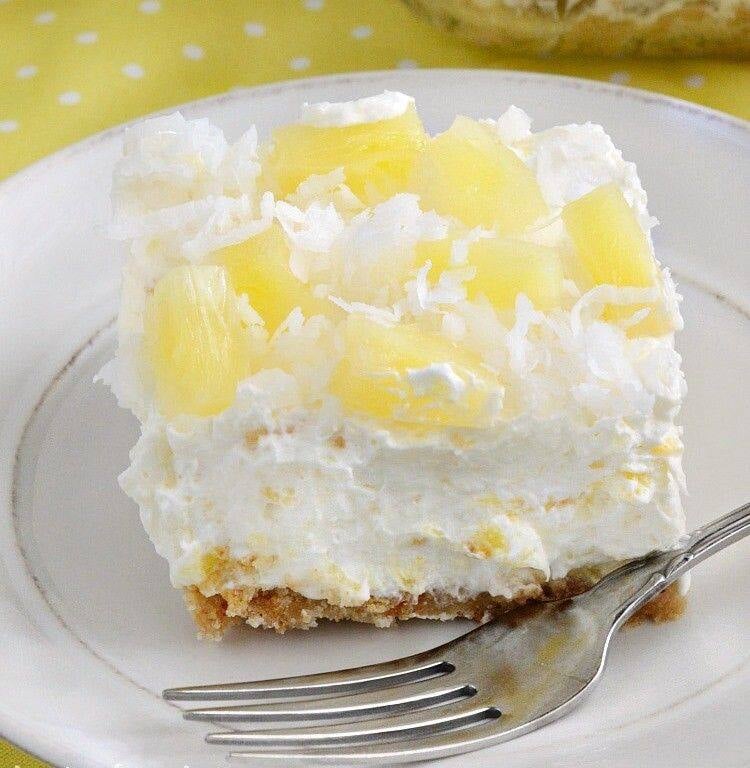 Step into a world where dreamy indulgence meets effortless creation with a dessert that's as heavenly as it is easy — the No-Bake Pineapple Dream Dessert. This confection is a testament to the art of convenience, allowing you to create a luscious treat without ever turning on your oven. Layers of velvety cream cheese, juicy pineapple, and delicate whipped topping come together to form a symphony of textures and flavors that whisk you away to a paradise of taste. With its tropical allure and no-fuss preparation, this dessert embodies the pure joy of savoring something exquisite without breaking a sweat. Join us as we delve into the secrets behind this culinary delight, exploring the crafting techniques, the refreshing sweetness, and the sheer satisfaction that No-Bake Pineapple Dream Dessert brings to tables, gatherings, and moments of dessert inspiration.
NO-BAKE PINEAPPLE DREAM DESSERT
Ingredients
For the filling:

8 ounces softened cream cheese

1 cup powdered sugar

1 cup crushed pineapple

8 ounces whipping topping

For the crust:

½ cup granulated sugar

½ cup melted butter

20 graham crackers, crushed

For the topping:

¼ cup shredded coconut

¼ cup diced pineapples, drained
Directions
Preparing the filling:
Step 1: Place the cream cheese in a medium sized bowl, and mix with an electric mixer till it becomes fluffy. Add in the powdered sugar gradually and continue mixing till it's well combines.
Step 2: Add the whipping topping to the cream cheese mix and beat until it's fluffy. Fold the crushed pineapples into the mix and then set aside.
Preparing the crust:
Step 3: Add the crushed graham crackers, granulated sugar and melted butter in small bowl, and mix together till they combine well.
Step 4: Pat the crust mix into a 9×9 baking dish, then spoon the filling mix over it and smoothen with a spatula until it distributes evenly.
Step 5: Top with shredded coconut and diced pineapples and refrigerate for 2 hours till its firm. Cut into serving pieces and enjoy.
Tips:
Make sure to use butter and not margarine. Salted or unsalted butter is fine.
Rather than Cool Whip, you could use homemade whipped cream. It won't hold up like Cool Whip does though.