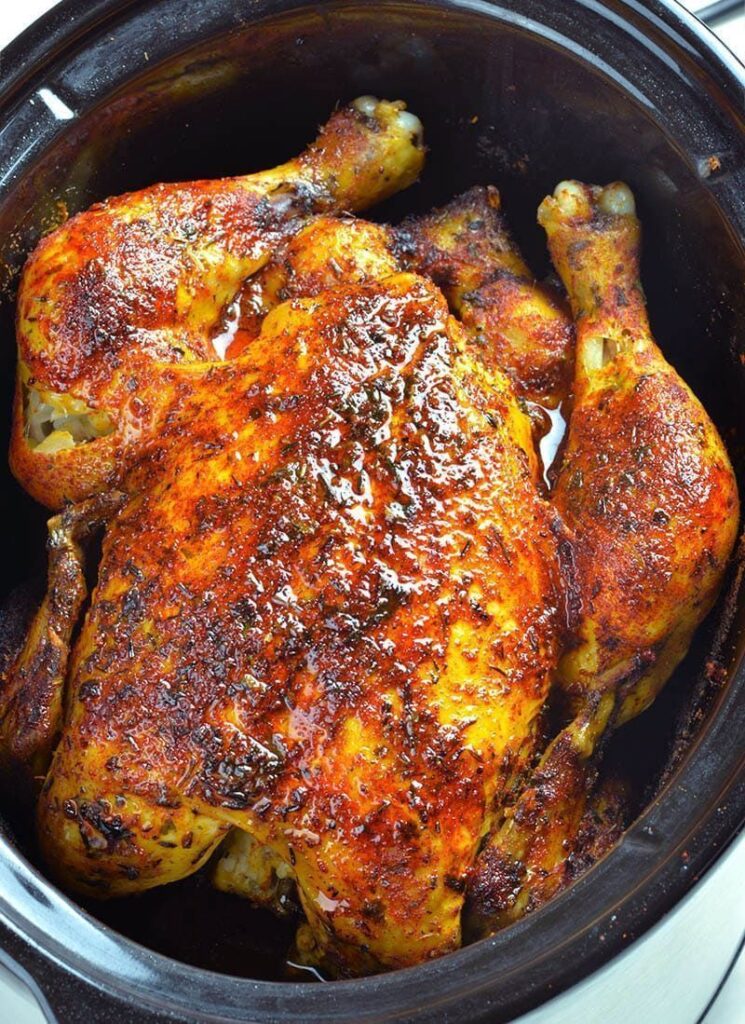 Picture the mouthwatering aroma of perfectly roasted chicken permeating your home without any of the usual oven-related fuss — welcome to the world of Slow Cooker Rotisserie Chicken. This ingenious culinary creation allows you to savor the succulence of rotisserie-style chicken with the convenience of a slow cooker. Tender, flavorful, and cooked to perfection, this dish embodies the art of transforming a basic ingredient into a masterpiece of convenience and taste. With each bite, you'll experience the melt-in-your-mouth tenderness and the savory allure that makes rotisserie chicken a beloved favorite. Join us on a journey as we uncover the techniques, seasoning secrets, and the pure delight that Slow Cooker Rotisserie Chicken brings to family meals, gatherings, and moments when you crave that classic rotisserie experience without the hassle.
Slow Cooker Rotisserie Chicken
Ingredients
1 whole chicken (about 4 lbs.)- neck and giblets removed

1 teaspoon chili powder

3 teaspoons smoked paprika

1 teaspoon garlic powder

2 teaspoons dried parsley

1 teaspoon dried thyme

½ teaspoon freshly ground black pepper

1 teaspoon salt (more or less-to taste)
Directions
Spray slow cooker with cooking spray. Roll 4 balls of aluminum foil and place on the bottom of greased slow cooker (to use as rack for chicken so the juices will stay in the bottom of slow cooker under the chicken).
Remove neck and goblet from the chicken, rinse the chicken with water and pat dry with paper towels.
In a small bowl, whisk together salt pepper and seasonings. Rub seasoning mix all over chicken skin.
Place the chicken on top of the aluminum foil. Cover with the lid and cook on low for 7-7.5 hours, or on high for 4-4.5 hours until the chicken is cooked through and reaches an internal temperature of 165 F.
Carefully remove the chicken from the slow cooker (it's very tender and it could fall apart).
Serve the chicken as desired.
If you want crispier skin, place the chicken on a baking sheet and broil for 3-5 minutes.