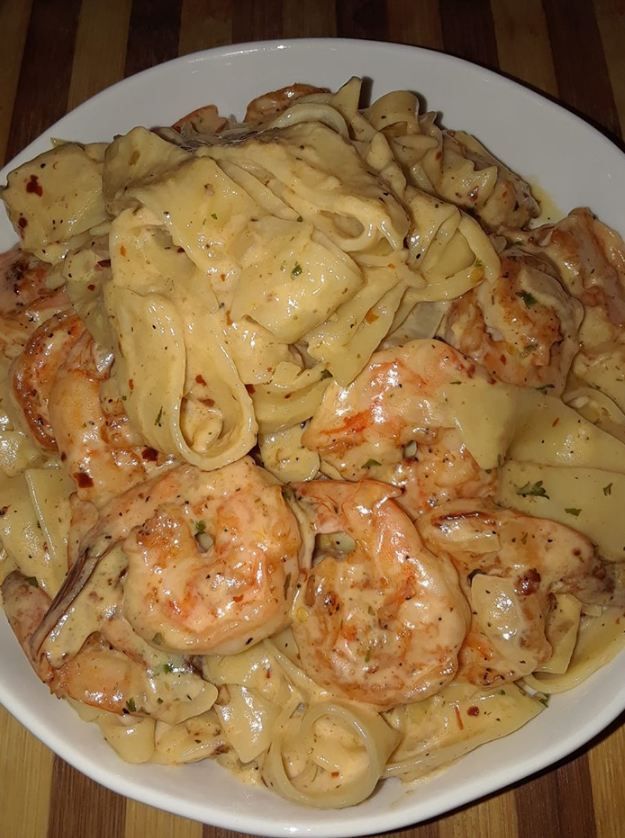 Embark on a culinary adventure that marries the indulgent allure of creamy Alfredo sauce with the succulent delight of shrimp — welcome to the world of One Pan Shrimp Fettuccine Alfredo. This creation is a testament to the art of convenience without compromise, allowing you to savor the flavors of a restaurant-worthy dish from the comfort of your own kitchen. With tender shrimp nestled amidst velvety fettuccine, all coated in a rich Alfredo sauce, this one-pan wonder offers a symphony of textures and flavors that redefine weeknight dinners. As we dive into the world of One Pan Shrimp Fettuccine Alfredo, we'll uncover the techniques that ensure the perfect melding of ingredients, the ease of preparation, and the sheer joy it brings to those who appreciate the art of combining indulgence with simplicity in a single, satisfying dish.
One Pan Shrimp Fettuccine Alfredo
Ingredients
3 tablespoons unsalted butter divided

16 ounces large shrimp peeled, deveined, and tails removed

2 cloves garlic minced

2 cups chicken broth

1 cup milk

8 ounces fettuccine noodles dry

1 cup parmesan cheese grated

1/2 cup heavy cream

1/4 teaspoon pepper

pinch nutmeg

parsley as a garnish
Directions
In a sauté pan over medium heat, add two tablespoons of butter. Once hot, add shrimp and cook for 1-2 minutes each side, or until opaque. Transfer to a plate or bowl and cover to keep warm.
Add remaining butter and minced garlic to pan. Cook for 30 seconds, making sure not to burn (garlic will cook quickly).
Add chicken broth, milk, and fettuccine noodles. Stir noodles to separate. Once liquid comes to a boil, cover, reduce heat to low, and simmer for about 11 minutes (or until al dente according to your pasta's package directions).
Stir once halfway through to separate noodles.Remove lid. Most of liquid should be absorbed.
Add heavy cream, parmesan cheese, pepper, and nutmeg. Stir until cheese is melted. Add shrimp and stir to combone. Remove pan from heat allow to set for 5 minutes to allow for sauce to thicken.
Garnish with parsley before serving.