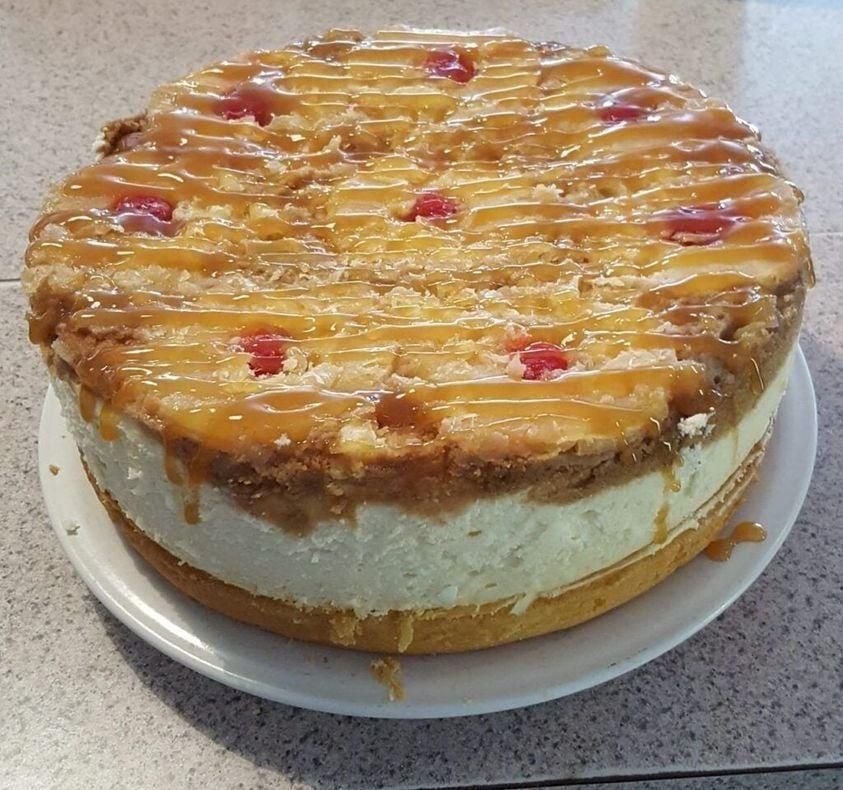 Prepare to embark on a culinary adventure where two beloved desserts collide in a harmonious fusion of flavor and elegance — welcome to the world of Pineapple Upside Down Cheesecake. This creation is a celebration of creativity and indulgence, where the iconic pineapple upside-down cake meets the creamy decadence of cheesecake. With a luscious cheesecake layer atop a bed of caramelized pineapple and cherries, this dessert offers a symphony of textures and tastes that's both nostalgic and gourmet. As we delve into the world of Pineapple Upside Down Cheesecake, we'll uncover the techniques that ensure the perfect marriage of sweetness and creaminess, the balance of ingredients that create a visual masterpiece, and the sheer joy it brings to those who seek a dessert that's as delightful to behold as it is to savor. Join us on a journey through flavor and sophistication, where each bite is a moment of pure, layered pleasure.
Pineapple Upside Down Cheesecake
Ingredients
5 Tbsp.Of melted butter.

2 Tbsp.Of brown sugar.

2 Cans of pineapple slices, I used the 8-ounces cans.

7 maraschino cherries, chopped.

1 Cup.Of graham crackers.

3 Tbsp.Of white sugar.

Smooth cream cheese, I used three tubs of 8-ounces.

3/4 Cup.Of white sugar.

3/4 Cup.Of bitter cream.

2 Tsp.Of vanilla extract.

Three whole eggs.
Directions
First, turn on the oven and preheat this to 325
Get a pan that's about 9 inches, a pie pan, and then put two tablespoons of the brown sugar and butter into this, and from there, mix this together, spreading this a little bit under the bottom portion of the pie pan.
Put the pineapple slices over the ice cream top, and then, you can put a cheery in the center part of the bread slices.
Get a baking dish, and combine the three tablespoons of your white sugar, three tablespoons of the butter, and all of the graham crackers, and then combine this. Make sur that you do have the pineapple slices squeezed thoroughly too.
Get a mixing basin, and then mix about three quarters of a cup of white sugar and the cream cheese. From there, add the cream along with your vanilla essence and thoroughly mix this together until everything is nicely combined.
Put the eggs in, once at each time, and ten have the mixer going at a low speed. Once everything is in, you can then mix it all together until it's fully combined. You can then take the cake batter and place it inside your cake mold.
Put the mixture into the pie tin, and from there, put it in the oven and make sure it bakes until the center is almost fully done. This can take up to an hour for the full cooking experience.
Take the cake out, run a knife along the inner part of your pan, and then, it fully sit to cool on the oven. You should leave it in there, and let it sit to cool for the fully 30 minutes inside the oven.
From here, take the pan fully out of the oven, and then, get a serving dish. Carefully turn this upside down and then place this on the serving dish to serve.
If you're not going to serve it right away, for best results and to make sure that the cake mold holds, put it in the fridge for up to 3 hours before you serve this for the best results, and to make sur ethe cake is kept nice and firm as a result.