Cinnamon roll fan? (Aren't we all?) Well then you'll be a big fan of Southern Butter Rolls, which are very similar to cinnamon rolls, but up the ante with a sweet and buttery sauce that surrounds the rolls as they bake. They're tender and pillowy, even though the dough used here is closer to a quick biscuit dough than the yeast dough you generally see with rolls. That means they're quicker to make – there's no rising time at all! – which is good news since their straightforward sweet and buttery flavor is one you'll want to come back to again and again.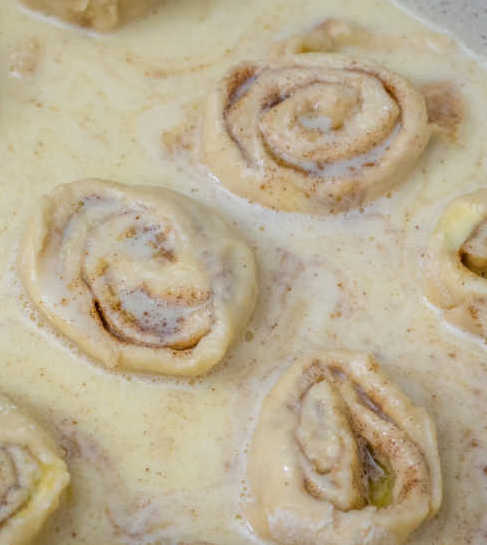 FOR THE ROLLS:
1 cup (2 sticks) unsalted butter
2 cups all-purpose flour, plus more for dusting
1/4 cup granulated sugar
1 tablespoon baking powder
1 teaspoon kosher salt
1/4 teaspoon baking soda
1 cup buttermilk, chilled
1 teaspoon ground cinnamon
FOR THE SAUCE:
1 (14 oz) can sweetened condensed milk
1 1/2 cups whole milk
2/3 cup powdered sugar
2 tablespoons butter
1/4 teaspoon salt
1 teaspoon vanilla
How To Make Southern Butter Rolls
Preheat the oven to 350°F. Unwrap one stick of butter and set on a plate near the oven to come to room temperature. Cut the second stick into cubes and freeze for 10 minutes.
In a large bowl, whisk together the flour, 2 tablespoons of the sugar, baking powder, salt, and baking soda. Add the chilled butter and toss to coat.
Using your fingers, pinch the butter into the flour until it resembles coarse meal. Add buttermilk and stir until no dry flour remains.
Turn out dough onto a flour-dusted surface. Dust the top of the dough with flour and roll out into a 12×18-inch rectangle.
Carefully spread soft stick of butter over the top of the dough and sprinkle with remaining sugar and cinnamon.
Starting at a long end, roll the dough up jelly-roll style and slice into 12 even slices.
Place rolls in a 9×13-inch baking dish and set in the refrigerator to chill while you make the sauce:
In a medium saucepan, combine the condensed milk, milk, powdered sugar, butter, and salt over medium-high heat.Stir gently until mixture starts to bubble and sugar has dissolved.
Remove from heat and stir in vanilla extract.
Pour over rolls; they'll float but that's okay. Bake until puffy and golden brown, 40-45 minutes. Let sit 5 minutes before serving. Drizzle with sauce and enjoy!