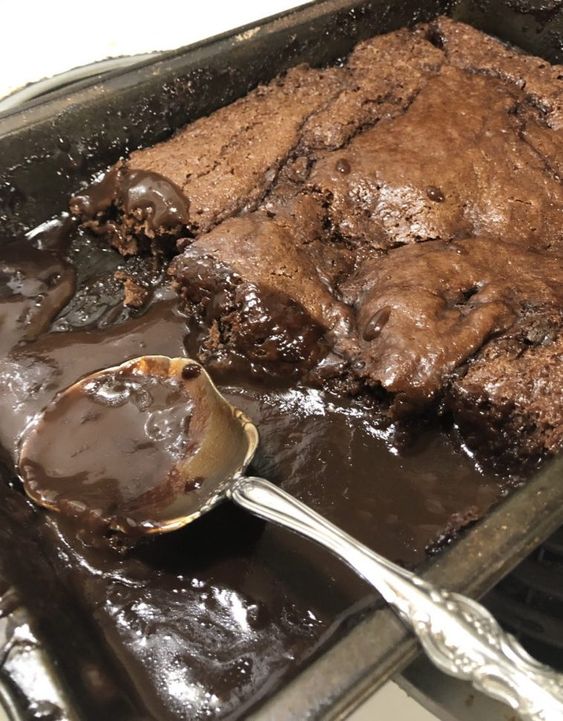 "Indulge in the heartwarming embrace of Southern tradition with our Southern Chocolate Cobbler. This delectable creation takes the timeless charm of a cobbler and infuses it with the rich allure of chocolate, creating a dessert that's as comforting as it is indulgent. Imagine sinking your spoon into a warm, gooey layer of chocolate sauce, perfectly balanced by a tender cake-like topping that's kissed with a touch of sweetness. With each luscious bite, you'll experience the harmonious blend of deep cocoa flavors and the nostalgic comfort of homemade desserts that have graced Southern tables for generations. Whether served as a delightful finale to Sunday suppers, a show-stopping treat for special occasions, or a way to savor the magic of Southern baking traditions, our Southern Chocolate Cobbler promises a culinary journey that captures the essence of homey goodness and the pleasure of indulging in soul-satisfying sweets."
Southern Chocolate Cobbler
Ingredients
FOR THE BATTER:

1/2 cup unsalted butter

1 1/2 cups granulated sugar

4 tablespoons unsweetened cocoa powder

2 cups all-purpose flour

2 teaspoons baking powder

1/4 teaspoon salt

1 cup milk

2 teaspoons vanilla extract

FOR THE TOPPING:

2 cups granulated sugar

1/2 cup unsweetened cocoa powder

3 cups boiling water

Vanilla ice cream, for serving
Directions
Preheat oven to 350°F.
Place butter in a 9×13-inch baking dish and put in oven. Once butter has melted, remove and set aside.
Stir together the 1 1/2 cups sugar, 4 tablespoons cocoa powder, flour, milk, baking powder, salt, and vanilla extract. Spoon into baking dish over melted butter, but do not stir.
In a separate bowl, mix together the 2 cups sugar and 1/2 cup cocoa powder. Sprinkle over batter in pan. Pour boiling water over topping, but again do not stir.
Bake until top has set, 35-40 minutes. The bottom will be loose and a bit gooey.
Let cool 15 minutes before serving. Enjoy!