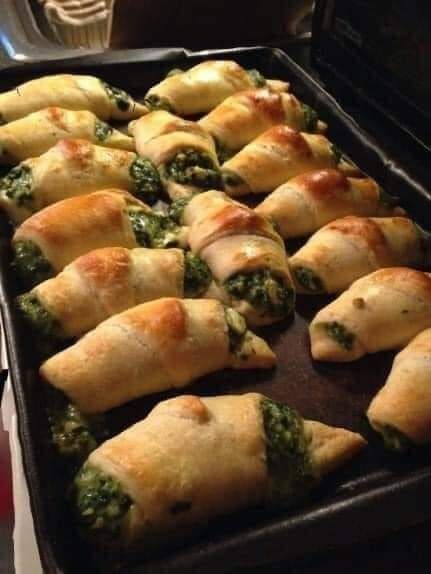 "Experience the harmonious marriage of wholesome greens and creamy indulgence with our Spinach Feta Stuffed Crescents. This delightful creation takes the flaky allure of crescent rolls and transforms them into a vessel of flavor and texture that's as delightful as it is savory. Imagine warm, buttery crescents filled with a delectable mixture of tender spinach and tangy feta cheese, creating a symphony of tastes that dance on your taste buds. With each bite, you'll savor the contrast of the crisp, golden crust and the melt-in-your-mouth filling that encapsulates the essence of Mediterranean flavors. Whether enjoyed as a sophisticated appetizer for gatherings, a memorable addition to brunch spreads, or a way to introduce a touch of gourmet goodness to everyday dining, our Spinach Feta Stuffed Crescents promise a culinary journey that celebrates the beauty of simplicity and taste."
SPINACH FETA STUFFED CRESCENTS
Ingredients
3 oz. spinach Fresh or frozen, chopped

2 Cans refrigerated crescent roll dough

2 oz. Black olives diced

4 oz. Feta cheese crumbled

1 Egg white beaten

4 oz. Shredded mozzarella cheese

¼ tsp. Red pepper flakes
Directions
Place the spinach, feta, mozzarella, olives, red pepper flakes, and salt into a bowl, and stir to combine well.
Heat the oven to 350 degrees.
Unroll the crescent roll dough, and separate it into triangles.
Place a layer of filling onto the widest end of each triangle, and roll the dough closed over the filling.
Brush the rolls with the egg white, and bake for 15 minutes, or until browned and cooked through.